BoSacks Speaks Out: Thoughts on publishing in times of a pandemic.
By Bob Sacks on April 20, 2020
I'm not sure where to begin. As a man in his 60s with asthma, I sit here safely in self-imposed isolation in the center of Charlottesville, Virginia, frustrated and worried about my family and friends, and like everyone else hoping for effective leadership for all us from our governments both large and small.
I can only briefly try to express my sorrow for those lives already lost and for those yet to come in unknown numbers. The loss of life I expect will be so staggering, so overwhelming, so incomprehensible, as to be at first numbing and then painfully dwarfing anything in the experience of all our lives except for military wars. I hope I'm wrong, but I think not.
I expect we may all know someone who will have lost a loved one or two. We are in a very difficult war—a war with an invisible enemy. Our enemy has no honor, no conscience, no thoughtful methodology, no underlying principles. It is a living, microscopic breeding warrior that needs to infect us so that it can live and infect another day.
There are several moments in history when you can draw a historic boundary line and say, "Today, the universe changed." This pandemic is one of those days and one of those moments.
On a more positive note, it is in times like these that I'm most proud to belong to the publishing community. It is our job to communicate, inform, counsel, and inject cautious sobriety into the body politic. And that is something we are dammed good at. We will all adapt our work methodologies, our business plans, and, in so doing, protect the people by distributing knowledge to the best of our abilities. That is a responsibility we have always willingly accepted.
My heart goes out to you all. I do not know how we fight an invisible enemy that has no fear and no understandable agenda except by following the advice of our scientific leaders. They are good at what they do, and we are good at distributing and explaining the science to our readers.
I would love to wish you peace and serenity, but I do not think we will have it for some time to come. But we still have love and hope. There is no war in history that has ever diminished love and hope. I love my family and friends and people I have never met. I continue to hope that someday, humanity will achieve a state of global peace and contentment. After all, isn't that what we all seek? A roof over everybody's head and a chicken in every pot and our families safe and sound and without fear.
I hope you are all safe and that tonight you get a chance to hug your family and mentally embrace your friends from a safe distance.
Bob Sacks
-30-
---
By
Bob Sacks
|
April 20, 2020
About the Author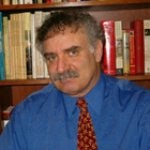 Bob Sacks